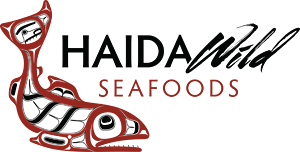 When Debbie Beemer and Ray Stephens sold their small, successful seafood processing and smoking business to the Haida Enterprise Corporation (HaiCo) in July 2012, they found a buyer that would protect and build on the fine reputation they had established over ten years of operation in Masset on Haida Gwaii.
HaiCo chief executive officer Kevin Ainsworth described Beemer's and Stephen's company as a well-run business that operated seasonally from June through mid-October. It was known for its customer care, attention to detail and high-quality products. The company processed sport fish from fishing lodges and added commercially caught product when possible. "We realized that the company at the time was highly scalable, hence the expansion that we're undergoing now," Ainsworth said.
Now branded as Haida Wild, the seafood processing company is one of three business streams managed by HaiCo. The Haida Nation incorporated HaiCo in 2009 with the mandate to improve the economic, social, cultural and environmental well-being of the Haida and to create future opportunities on Haida Gwaii. The other businesses include a forestry operation and fishing lodges.
While caring for loyal customers and maintaining quality, Haida Wild plans to increase its production to include catch from HaiCo's recreational lodges as well as fish caught by Haida Nation commercial fishery licenses. As Ainsworth said, this will result in "a nice vertical integration strategy." In addition, as production capacity, allows the company will buy more from local commercial and recreational fishermen.
To achieve its growth goals, Haida Wild recently has expanded its facility to add a second processing line and a separate new 2,000-square-foot smoking facility. The expansion more than doubles Haida Wild's capacity and allows the company to increase production of commercially caught fish, extend its season by three to four months and hire an additional 10 people.
Haida Wild processes Ocean Wise-certified wild fish caught in Haida Gwaii waters. The operation processes salmon, sablefish, halibut and ground fish, and is considering adding prawns, scallops and crab. Smoked products include smoked salmon, lox, candied salmon and possibly tuna in the future.
"The key this year is to see the efficiencies of the expansion and to maintain the high quality," Shawn Baybutt, general manager of Haida Wild said. In addition, the company is building its website, designing new product labels and developing a marketing plan.
The location of the plant is an advantage as well: right across from the dock in Masset harbour. Baybutt said that because of their Masset-based facility, Haida Wild is able to "purchase direct from the fish boats. So essentially we're on the fishing grounds. The fish comes to us and within hours it's cut and vac-pack frozen which creates a fresher product."
Early marketing efforts, even before the launch of a website, show promise. For the last two years, an independent grocery company with stores in Trail and Rossland has sold Haida Wild product. "They started out with a limited amount (of mostly filleted vac-packed salmon)," Baybutt said. "And last year they came up, did a fishing trip and toured the plant, then increased their order fivefold. And they're looking to do even more this year."
Market expansion possibilities include grocery chains in Metro Vancouver and elsewhere in B.C. The company also is exploring connections in Germany and France and hopes to introduce online direct sales in the future.
Learn more about Haida Wild.