Canadian waters, Chilean technology, and First Nations and Chinese investment are all contributing to the success of the Coastal Shellfish Corporation in Prince Rupert.
With a modern shellfish hatchery built in Prince Rupert and a shellfish farm in Metlakatla traditional territory, Coastal Shellfish hatches, grows and harvests scallops with minimal environmental impact.
Originally planned as an economic development opportunity in 2003, the hatchery launched as a pilot project in 2011 and had a few growing pains before its current success. Coastal Shellfish is now on track to becoming one of the biggest shellfish aquaculture operations in B.C.
Operations vice president Vittorio Venturini says that the water quality of the North Coast provides a huge advantage. "Up north, conditions are very good for shellfish farming. We have oceanic water coming in so that's a good reason to have our farm here." The challenge, he admits, is that logistics are harder to manage far from a large population base. But the company has a state-of-the-art hatchery in Prince Rupert, farm sites in Metlakatla territory, and plans to be processing scallops in Prince Rupert late this year. The scallop production cycle target is 24 months or less.
There's big demand in the U.S. and Canada for scallops and there's a shortage of product, according to Venturini. While most of the shellfish industry in the province generally uses rafts for farming, Venturini has perfected the less expensive, more efficient long lines typically used in Chile for large-scale shellfish farms. "A large farm requires an efficient system," he says. "Lines sit under the water rather than on the surface, being more cost-effective, more environmentally friendly and safer than rafts."
With its partners – the Metlakatla First Nation, the Coastal First Nations through its Great Bear Initiative and (Chinese) Canada Blossom – Coastal Shellfish expects to create 50 to 60 new jobs within the next few years. Coastal Shellfish plans to farm other species as well – perhaps geoduck and sea cucumber. "We're already making some trials with other species," Venturini says.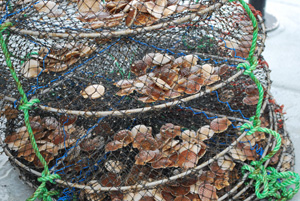 Craig Outhet, who is co-lead of the North Coast MaPP sub-region planning process, says that the goal is to increase economic benefit while, at the same time, managing ecological impacts. "While MaPP supports the idea of shellfish aquaculture, it doesn't mean the gates are wide open," he notes. "We need to make sure these farms are managed right."
But he's confident the Prince Rupert operation is on the right track so far. "We're working to find the holistic balance of the ecological, the human well-being and the governance," he says. "You might think these things are at odds, but they're not really."
He particularly likes the way the MaPP process is looking ahead 20 years. "It's a long-term planning process," he says. "Regardless of what's currently happening, we're planning for the long term."