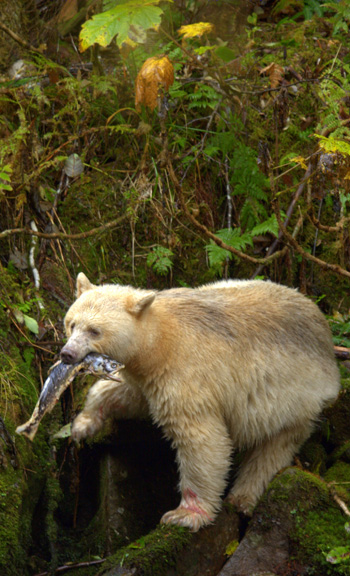 Doug Neasloss was a kayak touring guide in the remote village of Klemtu, found on Swindle Island in B.C.'s Inside Passage (between Vancouver Island and southeast Alaska). Neasloss had just closed up shop for the 2003 season, when he got an unexpected visitor.
"Then, this one lady showed up at my doorstep," he recalls. "I explained that our season had ended but she got quite upset because she was a freelance photographer who'd flown here from Toronto."
Neasloss checked the weather and agreed to take her out the next morning. He used his expert guiding knowledge to help her find a spirit bear, "and she got some amazing photos which allowed her to make a ton of money."
This experience helped turn Neasloss into a photographer himself (he's completely self-taught) and also sowed the seeds for what is now The Spirit Bear Lodge, a thriving eco-tourism business run by the Kitasoo/Xai'Xais First Nation.
The operation brings in about 300 visitors each year, many from Europe and Australia and employs 40 local people – mainly youth.
The heart of the enterprise? Interest in the region's estimated 200 highly prized spirit bears. This majestically coloured white animal – that used to be, wrongly, thought of as a rare albino – is a sacred animal to the First Nations people.
Today scientists know that the spirit bear's unique colouring is the result of a double recessive gene found in black bears. A white spirit bear can have a black cub and vice versa.
The spirit bear survives because of its isolation from other bears, namely grizzly bears, and an abundance of salmon in intact estuaries. These key characteristics are essential to Neasloss – and to the success of the lodge.
In fact, it's one of the reasons he's been so active in government-related work. A marine use planning coordinator for the Kitasoo Band from 2005 to 2011, he helped the community develop its own marine use plan. "We've been doing a lot of work on behalf of the bears," he says, arguing that marine protection is just as important as land preservation. Why? Because bears depend on salmon.
Lodge manager Tim McGrady agrees. "If we're not looking after the salmon, we're not looking after the bears," he says. "Without the salmon, we don't have a business. The resources are at the core of what we do."
The community is happy with the spectacular lodge it built in 2007 and looking forward to continuing to grow its business.

"We want to provide an alternative to the consumption economy," says McGrady. "We couldn't just be a small mom and pop business. We've had to show real revenue and real return. Logging and mining have been economic drivers in the region. We want to be a really viable alternative."