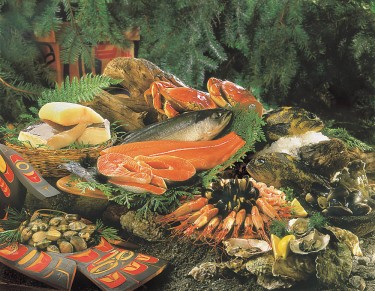 While eating more fish might seem like a simple, healthy dietary decision, in fact, it also offers consumers the chance to make a big difference to coastal communities in British Columbia.
That's the passionate belief of Jamie Alley, a former director with the B.C. Ministry of Environment, now retired and consulting to government, First Nations and the seafood industry.
"The seafood industry is not in sunset – in fact, it's in sunrise," he says. "Seafood is one of the most globally traded commodities. And considering the quality of the resource here, our industry is relatively underdeveloped.
Ironically, Alley says, even though the public sometimes fails to appreciate how valuable seafood really is, "it is the cornerstone of a lot of coastal communities."
This is because B.C.'s oceans and fresh waters support more than 100 species of fish, shellfish and marine plants. With a combined current wholesale value of more than $1.4 billion, B.C. seafood travels around the world, with some 80 per cent of it being exported. In 2011, it ended up in two billion meals in 74 countries.
A key figure in working with industry to market the B.C. seafood brand for many years, Alley recalls travelling to Europe with the former executive chef from Vancouver's C Restaurant, Rob Clark, to promote Pacific sablefish, or black cod.  "At the time, we were selling 90 per cent of [the sablefish] catch to Japan and needed to diversify," he recalls. "But at this event we had dozens of white-tablecloth, European chefs and global seafood traders lined up and down the aisles waiting to try one of the best fish in the world. " As Alley puts it, marketing efforts like that, "help put money in the jeans of people in small rural communities."
Sales of B.C. sablefish in Europe have increased dramatically since Alley's trip, going from only $220,000 in 2007 to well over $3 million in 2012.
Alley believes that the secret to continued success is shifting from a high-quantity fishery with a low value – to a low-quantity fishery with a high value. Stories like the sablefish one have helped convince him that fish are more than simply a delicious food. They are also an economic engine for rural B.C.
According to Alley, jobs in the seafood industry in coastal communities are comparatively more valuable to the social and economic fabric of British Columbia than service sector jobs in the Lower Mainland.
"Seafood-industry jobs pay relatively well," he says. These jobs tend to be located in smaller, coastal areas where overall unemployment rates can be high. Fisheries-related jobs, like those at seafood processing facilities, are particularly important for First Nations people, many of whom live in remote communities, far from urban centres. "There's no other part of the coastal economy that has such a high participation of First Nations," Alley says. First Nations people represent roughly 30 per cent of the workforce in the seafood-processing sector.
B.C. also has some of the best, most sustainably managed fisheries in the world. The global standard for seafood eco-certification, the Marine Stewardship Council (MSC), has developed tough, best-practice standards for sustainable fishing and seafood traceability. The group's mission? To recognize and reward sustainable fishing practices and thereby improve the health of the world's oceans.
Six fisheries in B.C. are currently MSC certified and more are in the works. These are British Columbia chum, pink and sockeye salmon, albacore tuna, Pacific hake mid-water trawl, and Pacific halibut. In the MaPP study area, five fisheries are currently MSC certified – north and central coast chum salmon are in assessment. According to the 2011 British Columbia Seafood Year in Review, published by the B.C. Ministry of Agriculture, some 63 per cent of British Columbia's groundfish harvest and 60 per cent of the salmon harvest was from MSC-certified fisheries. Overall, 47 per cent of B.C.'s wild capture fisheries harvest was from MSC-certified fisheries. Certified fisheries can use the eco-label program to market their products and influence the choices consumers make when buying seafood.
"B.C.'s seafood is healthy and sustainably managed," says Alley. "You can buy it with confidence and support our fisherman to export it with pride to the world."