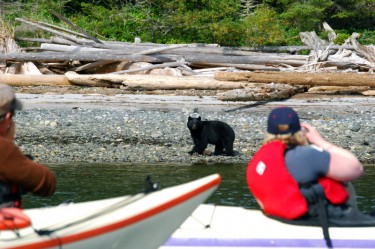 Back when Rick Snowdon was a full-time adventure guide he led an unforgettable trip with, among others, an Italian student who was soon to embark on his Ph.D. in nuclear physics.
"It was our last night," Snowdon recalls. "We were waiting for the darkness so we could see the bioluminescence, and the student turned to me and said, 'You know Rick, this has been the best week of my life.'"
There's a word for the kind of high-end outdoors experience that Snowdon provides. It's called glamping – a seductive blend of both "glamour" and "camping." Customers of Spirit of the West Adventures – the company Snowdon co-owns – not only get to take adventure kayak tours in B.C.'s Johnstone Strait, they also enjoy the benefits of large tents with canopies, comfortable beds, high-end locally sourced food, and even hot tubs.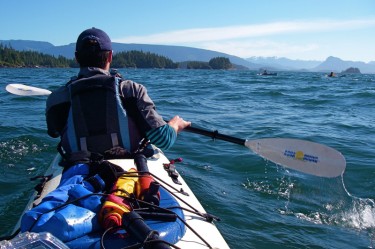 Some 55 per cent of Snowdon's business is international, with the bulk of his customers coming from the U.K., Australia and New Zealand. The U.S. represents another 20 per cent and Canada captures the remaining 25 per cent.
"Essentially, we're producing an export product," he says. "That's an important point to consider when making comparisons to other industries."
A believer in marine planning, Snowdon hopes the "zoning approach" – where different areas are dedicated to particular sectors, such as community/culture, general management and tourism – will allow individual groups to have sway in certain areas. "I hope tourism areas will be recognized for their usefulness," he says.
When Snowdon talks about usefulness, he's referring to an area's ability to support growth, sustainably. One of the main tours his company runs is a base-camp style trip from Johnstone Strait. "That goes on as long as market conditions are favourable," he says. Referring to viewscapes (or the vistas paddlers see while they're kayaking,) he adds, "Our guests have high expectations. When they come to B.C. they want to see a natural product."
Snowdon also makes the point that adventure tourism is an inherently sustainable business. Tourists will come back year after year, generating reliable income that, instead of disappearing as a resource is consumed, actually increases as a result of word-of-mouth.
He also concedes that tourism is harder for the government to manage. "Other industries have a few very large players with lots of revenues," he says. "But tourism is much more diffuse. It's a group of many, many small businesses that all work together to be part of a bigger whole. It's harder for us to organize ourselves into a coherent voice."
Still, thanks to his involvement as a North Vancouver Island Marine Plan Advisory Committee member for the commercial tourism sector, Snowdon has learned to listen to other voices. "I've come to appreciate that marine planning is a very long and involved process. I hope it guides future planning decisions."
He has appreciated seeing First Nations and government relationships unfold. And he has learned to anticipate the needs of other sectors and work with them. "As much as we [tourism operators] sometimes feel we're the underdog, we can't take the position that [other industries] can't do what they need to do," he says.
"But I've also learned to be a stronger advocate for our needs."