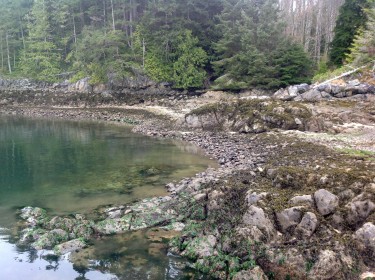 Ancient and mysterious treasures can be found on the B.C. coast – if you know where to look for them.
They are the luxiwey (pronounced: lok-hee-way) of the I'waxstay yas Gwayasdums (Broughton Archipelago) – clam gardens created by First Nations people thousands of years ago and revealed to Westerners only in the last 15 years.
The gardens – 470 of them in the Broughton Archipelago alone – are human-built terraces, made from rocks. The terraces are parallel to the lower waterline and built up so that they are one meter above the low tide level. This causes sediment to accumulate in the best possible way for filter-feeding clams.
The name luxiwey refers to the way in which the rocks were moved to the low water mark and then formed into a wall. Some are simply stones that were thrown; others are boulders that were rolled into place. The wall, and resulting silt build-up also allowed for access to the clams at higher low tides.
Daisy Sewid-Smith, a First Nations educator and historian, describes the re-discovery of the gardens by marine geologist John Harper. "For eight years he'd been studying them and travelling up and down the coast trying to find out who made them and for what purpose."  Some people said they were natural occurrences while others described them as fish traps but Harper thought they were different from any fish trap he'd ever seen. Finally, Kwakwaka'wakw Chief Adam Dick told Harper the true story.
The gardens, which are found all along the B.C. North Pacific coastline, cause clams to grow more vigorously, in the same way that tilling a field might help grow corn more productively. And the regular harvesting of the clams even contributes to this process, helping to keep the grounds well aerated.
Hereditary Clan chief Harold Sewid of the Weumusgem clan of the Qwe'Qwa'Sot'em First Nation says the work of building the gardens was done by individual families, centuries ago. "Some of these gardens have huge boulders rolled out to the edge with poles," he says. "A lot of work was involved but the clams were a very important part of survival for my people. There were times when the salmon didn't return to their rivers for up to 20 years and my people relied on clams more heavily."
"The shellfish were not only food for our people for thousands of years," Chief Sewid says. "But they were also used for barter – a source of income, as they can be today."
Chief Sewid predicts a "goldrush of shellfish users" moving into this territory and wants to ensure that First Nations interests are protected. "They try to say these gardens were 'discovered'," he says, "but our people always knew they were there."